Strategyzer Workshop Overview
Last week I attended Strategyzer's Masterclass Workshop in Boston.  We've been looking forward to an in-depth review of their strategic approach for quite a while now. Alex Osterwalder walked us through Strategyzer's innovation methodology which is centred on two tools: The Business Model Canvas and Value Proposition Design. Each tool is often valuable on its own.  They are even more powerful when combined with Lean Startup principles to create a structured process to improve innovation. We'll start off with a quick introduction to the tools.  We'll avoid getting into detail but feel free to reach out to find more info.  Next, we'll cover the highlights of the workshop. We when far more in-depth than Strategyzer's books will take you.  Finally, we'll talk about where we're making use of this at Lansdowne.  Contact Us for PDF versions of the canvases.
Business Model Canvas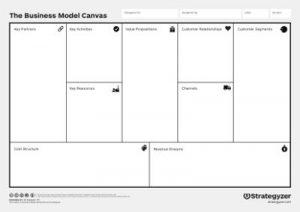 Depicts a Business Model
Identify gaps or weaknesses
Create a Shared Language
Powerful Innovation Tool
Value Proposition Canvas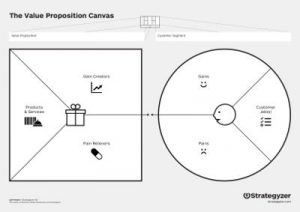 Profile Customer Segments
Uses Jobs-To-Be-Done Framework
Identify & Rank Jobs, Pains, Gains
Design & Test Product-Solution Fit
Applying The Tools To Strategy
The tools are best applied within an overall innovation framework.  The framework is based on Lean Startup principles and relies on strategists thinking as designers and entrepreneurs.  The process focuses on validating ideas quickly in order to mitigate investment risk.  The canvases can be used to plan, track testing, and account for lessons learned as the process unfolds. Since this systematic approach reduces risk early, innovation becomes more effective at producing scalable business models.
The team starts the process by validating the value offered to the initial customer base (product is desirable).  Following this, they validate that the business model is sustainable (feasible to build & financially viable).  Finally, the Business Model is tested as you move from profitability to scalability.  Once the model is developed, other risk factors such as barriers to entry and switching costs can be considered.  Alex covered excellent examples of each of these steps during the workshop.
What Did We Learn At The Workshop?
The canvases are a great starting point, but there's a lot more value to gain by digging just a bit deeper.  Three concepts were shared that could take you a step beyond the basic tools.  This is just the starting point.  Each one may become a whole article on its own.  Let us know if your are interested to hear more:
Business Model Maturity
Start by understanding the tools. Add Lean Startup for innovation.  Finally incorporate measurable innovation into Strategy.
Canvas as Document
Canvas as a Story
Lean + Canvas
Lean Innovation + Vision
Zoom-In & Zoom-Out
Use the canvases to align strategy with customer needs, and frontline efforts with overall strategy by communicating visually.
Customer – Value Proposition
Business – Business Model
Strategy – Environment & Innovation
Iterative Testing & Adaptation
Employ the canvases in combination with Lean principles to validate assumptions about your market and business model.
Build a Design
Test Assumptions
Learn… Refine or Pivot
Repeat to find Growth
The Lean Startup Process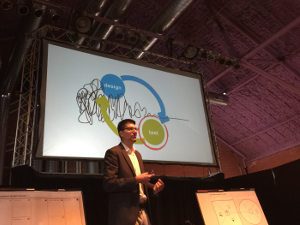 If you're unfamiliar with this process, I'll summarize it like this: Build, Measure, Learn. Seems like a simple concept right? Apply the scientific method to test ideas and assumptions before making significant investments to scale an idea. Many organizations struggle with this, but applying this principle is really at the heart of innovation and improvement.  Ask Why, over and over, until you find a root cause or core assumption.  Then create a hypothesis and test it.  It is the best method we have for reducing the risk of new ventures, or improving existing ones.  Contact us if you have questions.
Strategyzer's Online App
Strategyzer has developed a tool for documenting and tracking progress throughout the process.  Workshop attendees received access and we've already begun using the application to build and improve client's models.  Prior to this we had been using our own solution, but we'll be testing out the app now to see if it improves our process. We haven't got a lot of screen time just yet so this might be another opportunity for a future post. If you're interested in learning more, let us know in the comments.
Our Next Steps
So, what are we doing with what we've learned? We've been employing the canvases within our consultations for a long time already. During the workshop we gained even more insight into this framework.  Now, we're planning to push ourselves towards an integrated approach that draws on the lessons of Lean Startup.  We plan to share our knowledge with organizations that want to encourage internal innovation.  So far, we've come up with a few ways to help an enterprise that's trying to build it's innovation capabilities.
Innovation Consulting
We'd like to share the knowledge we're developing in this space with those who can benefit the most.
Basic – Business Model Canvas
Basic – Value Proposition Design
Advanced – Innovation Accounting
Advanced – Design Sprint
Enterprise – Innovation Strategy
Online Models & Innovation Accounting
We're adding the Strategyzer app to our existing online toolset.  Let us know if your interested in more info.
Business Model Collaboration
Value Proposition Design Collaboration
Innovation Accounting Model
Ideation & Validation Process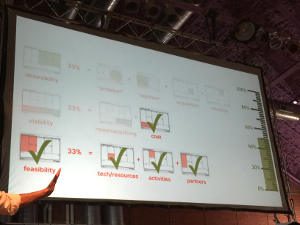 Resources
Feel free to send us an email to request the toolkit to find more information about The Business Model Canvas, Value Proposition Design, or Lean Startup.
We want to share relevant and valuable information within this blog. 
Sign up
below if you'd like to receive future posts directly, or leave us a comment if you have questions or a particular interest!